Android tops Blackberry, Apple iPhone
Published March 4, 2011
Source: www.bizjournals.com
Smartphones powered by Google Inc.'s Android operating system pulled ahead of Apple Inc.'s and Blackberry in U.S. market share in the most recent report from Nielsen Co.
Android claimed about 29 percent of the U.S. market in the period, followed by Apple and Blackberry maker Research in Motion Ltd. (Nasdaq:RIMM), tied at No. 2 with 27 percent each. Both Apple and Google have an Austin presence.
Unlike Apple and RIM, Google (Nasdaq:GOOG) licenses its Android operating system to other device makers, with HTC and Motorola selling the devices that count for most of its share.
Most of the difference appears to be in the larger share of the 18-24 age market that Android devices claim.
Cisco: mobile Web use to rise 26-fold
Published February 1, 2011
Source: www.bizjournals.com
Cisco Systems Inc. on Tuesday predicted that smartphones and tablet computers will increase mobile Web traffic by 26 times during the next four years.
Internet activity originating from tablet devices alone will grow 205-fold from 2010 to 2015, the highest growth rate of any device category tracked, the company projects.
The San Jose, Calif. networking equipment maker (Nasdaq:CSCO), which has an Austin presence, said connection speeds will increase 10-fold to keep up with demand.
The Cisco study predicts that by 2015, more than 5.6 billion personal devices will be connected to mobile networks, plus another 1.5 billion machine-to-machine nodes — roughly the equivalent of one mobile connection for every person in the world.
Suraj Shetty, Cisco's vice president, worldwide service provider marketing, said in a statement accompanying the study, "The seemingly endless bevy of new mobile devices, combined with greater mobile broadband access, more content, and applications of all types — especially video — are the key catalysts driving this remarkable growth."
Click here to read the press release about the study.
Tablets take bite out of Q4 PC sales
Published January 2011
Source: www.bizjournals.com
The popularity of tablet computers took a bite out of PC sales in the fourth quarter, according to a report from International Data Corp.
The industry analysis firm said that global sales growth for PCs in the quarter was just 2.7 percent, below the 5.5 percent that it had projected.
Total shipments for 2010 reached 346.2 million, an increase of 13.6 percent, but most of that came in the first half of 2010 before sales of Apple Inc.'s iPad gained full steam.
Among the biggest PC makers, Hewlett-Packard Co. (NYSE: HPQ) and Acer Group saw declines in sales. HP, which has major operations in Houston, saw its global shipments drop in the quarter by almost 1 percent while Acer was down by 15 percent. In the U.S., HP and Austin-based Dell Inc. (NASDAQ:DELL) were both down more than 5 percent and Acer was down nearly 29 percent.
"The U.S. market was expected to shrink year over year given the exploding growth experienced in the fourth quarter of 2009," IDC analyst David Daoud said. "Growth steadily slowed throughout 2010 as weakening demand and competition from the Apple iPad constrained PC shipments."
Daoud said he expects a combination of cautious consumers and competing tablets coming on the market will likely continue to put a dent on PC sales again this year.
Click here to see the full report.
AdMob Mobile Metrics - Insights on the Mobile Ecosystem
Source: metrics.admob.com
Mobile is flying high in the online travel industry
Published February 2010
Source: http://www.internetretailer.com/dailyNews.asp?id=33124
Retail isn't the only industry with growing mobile web activity—the travel sector is experiencing a mobile surge as well. The latest research from The Nielsen Co. shows more consumers are turning to travel mobile sites and apps to access information, book flights and hotel rooms, and rent cars anytime, anywhere.
Travelocity leads the pack, with 1.263 million unique monthly visitors in October, according to Nielsen. That's up a sizable 32.3% from 955,000 in October 2008. Expedia was close behind, with 1.258 million visitors in October, up only 4.7% from the same period the previous year.
Following are the top 10 travel mobile sites and apps gauged by unique monthly visitors, according to Nielsen:
Travelocity, 1.263 million, 955,000, 32.3%
Expedia, 1.258 million, 1.201, million, 4.7%
Priceline, 1.2 million, 860,000, 39.5%
Orbitz, 1.12 million, 904,000, 23.9%
Delta Airlines, 995,000, 827,000, 20.3%
American Airlines, 982,000, 633,000, 55.1%
Southwest Airlines, 956,000, 934,000, 2.4%
Hotels.com, 725,000, NA, NA
Continental Airlines, 669,000, 539,000, 24.1%
United Airlines, 554,000, 387,000, 43.2%
Mobile technology can be retailers` ticket for sealing the deal with in-store shoppers
In the weeks preceding Thanksgiving and Christmas, things can get a little crazy in K&L Wine Merchants stores. Customers fill the aisles looking for just the right bottle to go with Tom Turkey or the Christmas ham, and many have questions. But there are only so many employees to go around.
Enter the mobile phone.
The merchant created a mobile web site, m.KLWines.com, as a reference tool for customers who want more information than they can get from a little card on a shelf.
The strategy worked. The retailer reports traffic to the mobile site was "very strong" during the holidays, and it's been growing since. And store employees routinely see shoppers accessing the site on their mobile phones.
"Our hardcore customer is typically looking at the e-commerce site all the time reading all about wine, and the convenience of mobile was just too much for us to ignore," says Brian Zucker, co-owner. "Whether it's research or looking at real-time inventory, we wanted a user-friendly channel for them to do that."
Mobile Research
K&L is taking advantage of consumers' growing propensity to use their web-enabled, computer-like smartphones for research. Providing product information to consumers who are shopping in stores can be an effective way for a retailer to seal a deal, or to steal one, by letting a shopper know he can get a better deal on the item he's considering.
Retailers that don't give consumers access to information through mobile phones are sitting out a game that more shoppers are playing. During the recent holiday season, 25% of U.S. mobile phone users under 45 used a phone in a store while shopping, according to a survey of 1,016 users of consumer electronics comparison shopping engine Retrevo. Of those consumers, 13% used the phone for product research, 8% to check prices and 4% to make purchases. Only 9% of U.S. mobile phone users over 45 used a phone in store during holiday shopping.
A Motorola Inc. study of holiday shoppers across 11 countries found 51% used their mobile phones for in-store activities such as comparison shopping and getting peer feedback, product information and coupons. "This signals the increasing importance for retailers to adopt mobile technology strategies to remain competitive," Motorola says.
The good news for retailers is that creating a mobile tool for in-store use doesn't cost an arm and a leg, especially when it ties into existing Internet systems.
K&L Wine paid a set-up fee to mobile technology vendor Unbound Commerce to create its site, which K&L hosts. The mobile site draws content from K&L's e-commerce systems from Endeca Technologies Inc. Zucker says the mobile site is self-sufficient, requiring no K&L staff time. If there were a problem with the site, he would contact Unbound; if there were a problem with the feed from the e-commerce site, he would contact Endeca, which is under contract to provide web site support.
Multichannel beauty products retailer Sephora USA Inc. used a similar strategy to let store shoppers see the ratings and reviews on its retail web site. Reviews vendor Bazaarvoice Inc. feeds the ratings and reviews on Sephora's e-commerce site to a mobile site the vendor built and maintains. The cost is bundled into the monthly fee to Bazaarvoice; the retailer says the cost for mobile, which it promotes via e-mail marketing and in-store signs, is small, about 5% of the overall cost of reviews. There is a minimal cost for marketing staffers to monitor reviews, but the mobile site does not add to that cost.
"Customers are more and more accustomed to getting lots of information on products and appreciate the perspectives of both the salesperson and the consumer," says Julie Bornstein, senior vice president of Sephora Direct. "So having the ability to look at up-to-the-minute reviews is a great resource for customers. We could never put all this information on the shelves; so the mobile site is a great way to give people the information they want. Especially in a category that can be overwhelming."
Bornstein says traffic to the mobile site is small but not insignificant, and it's growing every month.
Research via texting
Consumer electronics comparison shopping engine Retrevo is taking a different approach to getting shoppers to use mobile phones in stores. Rather than build a mobile site, it created a text message service, RetrevoQ.
Retrevo promotes the service on its site, which it reports receives five million unique monthly visitors, and via e-mail to its one million registered users. A shopper in a store looking at cameras, for example, types into a text message "retrevoq Canon 500D" and sends the message to the RetrevoQ short code, 41411. In less than a minute, the shopper receives a reply text message that says: "Canon 500D: Strong buy if you want high-end. Fair price: $732. Range: $649-$699." The range indicates sales prices. It is followed by three URLs that link to more information on Retrevo.com.
Retrevo comes up with the analysis and pricing by studying 15 million data points every day, it says. It scours the web and the numerous data feeds it uses from retailers. It's using the text service as a branding and loyalty tool that encourages people to also regularly use the web site, where it earns fees for sending customers to retailers' e-commerce sites.
Because the RetrevoQ text program is entirely automated and draws on data collected for the web site, the cost of the mobile program is nominal, says Manish Rathi, co-founder and vice president of marketing.
"In electronics, a shopper walks into a store with a product in mind and then based on the salespeople they are engaged with narrows it down to a couple," Rathi says. "But before they buy, many people want to know what others think, and the web is the place to go for consumer sentiment. Now this is something the shopper can access in-store."
Putting information--and hardware--in customers' hands
Clothing manufactured in an environmentally friendly fashion requires a lot of explanation. How was the fabric obtained? What chemicals were used in manufacturing? How were the chemicals recycled or disposed of? These are just some of the many questions eco-conscious consumers want answered.
That's where mobile technology steps in at Clothing for a Better Earth. In a pilot test at the Carousel Center Mall in Syracuse, N.Y., the merchant is using technology from Destiny USA, Time Domain and Terakeet to give shoppers all the information they could want, as well as recommendations of products that would complement the article of clothing in hand.
The retailer embeds an RFID tag in "hang tags" attached to each article of clothing. When a shopper enters a dressing room, a monitor in the room recognizes the tag and displays the information about the clothing and product recommendations through a Wi-Fi link to the store's informational web site and point-of-sale system.
Shoppers also can use one of 24 iPod Touch mobile devices with RFID apps and embedded RFID tags as they browse the store. Pointing the mobile device at an article of clothing automatically displays on the device all the information.
Headed by Destiny USA, the vendors are doing all the work at this point, testing the system for deployment in more stores and malls. Destiny is picking up the tab, which it declines to reveal.
"Customers have said they like this because there is so much more information; plus the sales associate might not have every answer top of mind," says Randy Federgreen, president of Clothing for a Better Earth. "There's a lot of questions about the integrity and conscience of the clothes. Mobile technology gives us the opportunity for us to talk about it."
Mobile Use Surpasses Print For First Time
Published December 2011
Source: http://www.bizjournals.com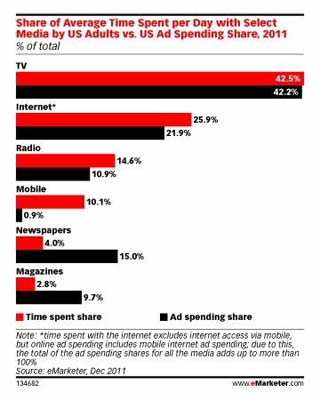 People are spending more time on their mobile devices than with print media for the first time, a report said on Tuesday. Market research firm, eMarketer said that in 2011, the average adult consumer said they were on their mobile device for 65 minutes a day versus 44 minutes with print media — 26 minutes with newspapers and 18 minutes with magazines.
Last year, both mobile and print accounted for 50 minutes of an average user's time. The year before print accounted for 55 minutes and mobile for 39 minutes.
A key unknown in the report is how much of the growth in mobile use is coming from reading stories from newspapers and magazines online using tablets and mobile phones.
TV and video are No. 1 and have grown in the amount of time being spent by users, going from 267 minutes to 274 minutes. The Internet is No. 2, growing from 146 minutes to 167 minutes. Radio is No. 3 but dropped from 98 minutes to 94 minutes.
The report also said that despite the trend toward daily mobile use, the percentage of ad spending on the medium is less than 1 percent. Print is No. 2, behind only TV and video, in that regard with nearly 25 percent of ad spending. The Internet is close behind at No. 3 with nearly 22 percent. TV and video account for about 42 percent of ad spending.